Our Recruitment Finance solutions are available for temporary recruitment companies of all sizes and provides full back-office support together with finance to fund weekly wages to contractors.
Funding of up to 95% of outstanding invoices within 24 hours through our Invoice Factoring and Invoice Discounting solutions
Award-winning credit control to ensure your customers pay on time (we can offer a full confidential service through our MyWhite Label solution)
Umbrella set-up for your contractors
Accountax approval and full HMRC compliance on all aspect of tax, pension provision, Health & Safety and holiday pay
Both agency and contractor are insured against legislation
Market-leading Merit software which streamlines the process and frees up your time to focus on the business in a cost-effective and flexible way
We are proud to working with Candor, one of the fastest growing payroll and contracting providers in the UK.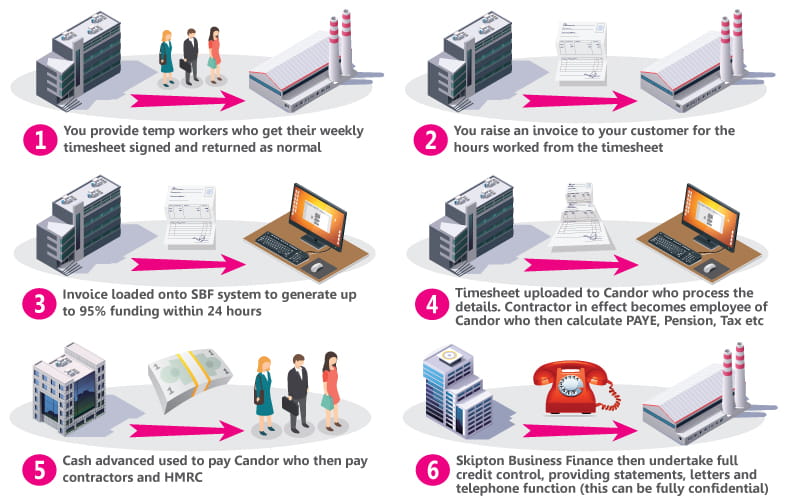 There are many benefits to temporary recruitment businesses which Invoice Finance can provide.
Increased cashflow can help businesses have the confidence to be able to take on bigger, more lucrative deals without the risk of running out of money
A more consistent cashflow cycle can help temporary recruitment businesses meet their weekly payroll obligations and paying creditors
Easy to implement – no major changes to a business' finance systems are needed
You don't need any other assets beyond the value of your invoices
Less security is needed (No real estate security required)
Working capital is accessible when invoices are raised - no need to wait for your customers to pay you!
Does your business fit our criteria for lending?
Whether you're a micro/small business or a medium/large business, Invoice Factoring and Invoice Discounting is available to a wide range of UK businesses operating in both vertical and horizontal markets.
Our friendly and experienced team adopt a commercial approach to underwriting, putting your people and business at the forefront of our decision-making process.
We never use a system-style scorecard and make each decision based on the individual merits of each and every business.